Our Team Building Dallas branch is on a mission to find the best corporate team building activities, corporate events and company outing ideas in Dallas TX.
Investing in corporate team building is incredibly important when it comes to your company's bottom line, because great teams produce great work. By proactively investing in your team's well being and happiness, you'll see a noticeable increase in your employee's overall job satisfaction, retention and productivity.
Our list highlights 25+ of the best corporate team building activities in Dallas TX, plus corporate event ideas, team outings, company off-sites, and team bonding ideas in Dallas, Fort Worth, Plano, Arlington, Weatherford, and Granbury.
Table of Contents
The Best Team Building Activities in Dallas TX
While we love all of the team building companies on this list, we made it a goal here at Team Building Dallas to narrow down the options. We evaluated all of the options for characteristics like fun, innovation, creativity, engagement, and price. With these criteria in mind, here are the two best corporate team building activities in Dallas.
1. The Great Guac Off™ – ⭐⭐⭐⭐⭐ [Top Rated]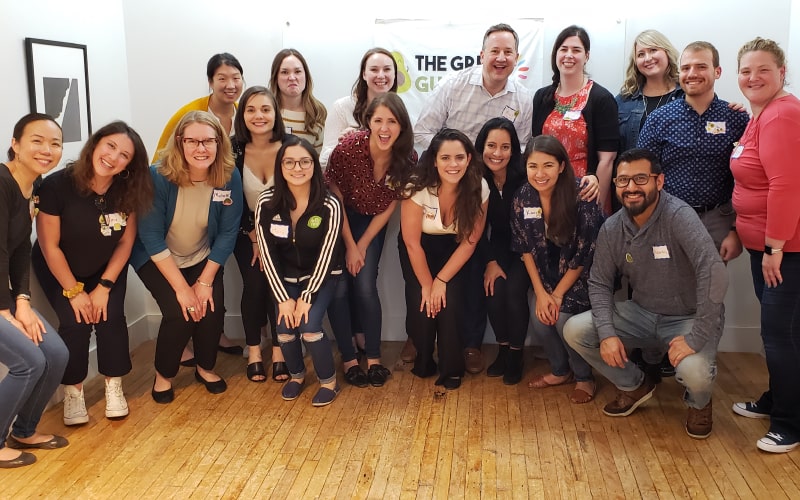 The Great Guac Off is unique, challenging, fun, and one of the best corporate team building activities in Dallas! The Great Guac Off (TGGO) is part guacamole making competition and part team building event all wrapped up into one awesome experience. To encourage a bit of friendly competition and team bonding, your team will be split up into small groups. Over the next 90 minutes, the groups will compete against each other to make the best guacamole as well as battle it out in mini-challenges like avocado themed trivia. Come prepared to these team activities with your best avocado puns and a top-secret ingredient to put your guac recipe above the rest. The Great Guac Off can host team building events anywhere, including at rental locations around Dallas or at your of office. There is no limit to the number of people you can have attend this fun corporate event, which makes it a great option when planning team building for large groups.
2. Gingerbread Wars – 🎄🎄🎄🎄🎄 [Holiday Themed]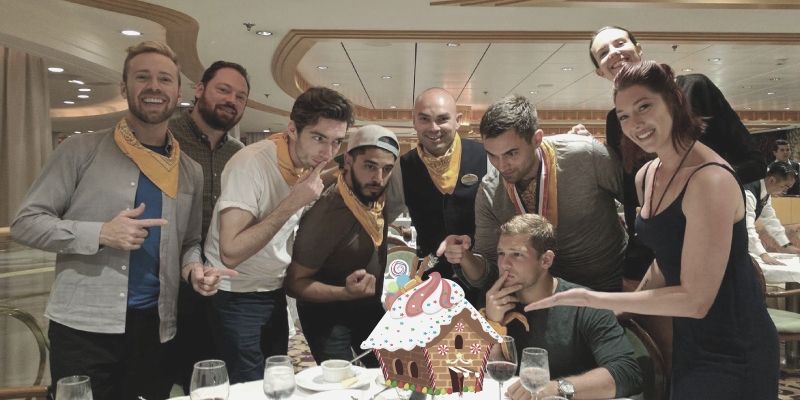 Gingerbread Wars combines the best of fun corporate events and great office holiday parties. Gingerbread Wars' elves will treat your group to a mashup of team activities. For example, most events include holiday trivia, and Snowman Hustle. Every one of these team events culminates in the Gingerbread of Greatness: an epic gingerbread house building showdown that crowns your office's champion. You can customize your event with options for BYOB, snacks, and catering. Gingerbread Wars is location-flexible, which means you can host the holiday team building activities at your office or one of Gingerbread Wars' cool locations in downtown Dallas or the surrounding area.
Unusual Team Building Activities in Dallas
Companies who commit to doing regular team building events tend to run out of fun corporate event ideas. With our list of unusual team building activities in Dallas, you'll find team outings that will energize and excite your office, especially if your employees have participated in one too many escape rooms.
3. Trinity Forest Adventure Park
Trinity Forest Adventure Park is an aerial adventure park with have many different high ropes courses. Similar to the way ski runs are identified, the Trinity Forest Adventure Park features color-coded levels with varying degrees of difficulty and elevation. Each course also includes obstacles such as wobble bridges, tight ropes, ladders, cargo nets, zip lines, and more. Trying something new and supporting coworkers as they overcome obstacles and face fears is a great way to promote deep team bonding. Whether your team is composed of thrill-seekers or climbers you'll find the right course for your next team outing.
4. MetroDemic
MetroDemic funs unique corporate team building activities that you do not need a reservation for or even a day or start time. The game is designed so you and your team can play it whenever you want, even if it's last minute. MetroDemic is played on a mobile-friendly website. All you need to start doing these team activities is sign up, login and get started. Your team will be guided on a 90-minute mission to find the source of a viral outbreak. You'll be outside exploring a small area of Dallas as MetroDemic takes you to see parks, interesting architecture, public works of art, and other intriguing sites. MetroDemic recommends no more than four people per team for team building events.
5. Dallas Party Bike
Dallas Party Bike has fun team building events for small teams who like to have a good time. Dallas Party Bike offers corporate events during the day or in the evening. Each party bike is complete with a premium sound system and LED lights to keep the good times rolling. You and your team can either reserve Dallas Party Bike's own private pedal party or grab seats on a guided bike bar crawl. Dallas Party Bike has five party bikes that hold up to 15 people each for private parties, and can accommodate groups up to 75 people. Dallas Party Bike tours are typically two hours each and held downtown or Deep Ellum!
6. Cedar Ridge Nature Preserve
If you are looking for DIY corporate events in Dallas, then check out your local state parks and hiking trails. For example, you can take your team to the Cedar Ridge Nature Preserve. The park spans 600 scenic acres between Mountain Creek Parkway and FM 1382, and is located just a short 20-minute drive from downtown Dallas. Cedar Ridge Nature Preserve has a variety of team activities for visitors and team outings, including nine miles of walking trails ranging from easy to difficult. Cedar Ridge Nature Preserve is great for bird watching, as the preserve is home to the rare black-capped Vireo as well as a wide variety of wildlife, and the center features butterfly gardens and picnic areas.
7. Host A Meetup
Hosting a meetup for your team building events is a great way to not only promote your brand but also show your community how much you appreciate them! Planning a meetup isn't as hard or daunting as it may seem. First, choose a location. Your meetup location could be anywhere: your office, a local park, a cafe, or a bar. Second, plan a few engaging group activities like a small team building scavenger hunt, a photo challenge, or a bingo board guests should complete during the event. Finally, invite your team, customers, vendors, suppliers and local community to attend these corporate events. If you need help planning your meetup, then don't hesitate to reach out to us!
8. Fair Park
Dallas's Fair Park hosts more than 1,200 community activities each year, including festivals, fairs, concerts, theatrical productions, art exhibits, sporting events, garden activities, and so much more! With all of these events to choose from, Fair Park is another great option for a do-it-yourself team outing. You can check a few of of the fun corporate events put on annually at Fair Park in Dallas: Earth Day Texas, North Texas Irish Festival, Fair Park 5k Urban Dash, and the Big Texas Beer Fest. Even on days without an event planned, Fair Park is a great place to spend an afternoon of team bonding. The venue has so much to offer visitors, like museums, history, art and architecture.
9. Dallas Arboretum & Botanical Gardens
The Dallas Arboretum is listed among the top arboretums in the world! The venue hosts many annual events, educational programs for children and adults, and emphasizes family-oriented activities. The arboretum is located on the shores of White Rock Lake, and includes 66 acres. The space has a 3.5 acre ornamental garden, and kitchen inspired by eating fresh, sustainable, and locally-grown food. The grounds also boast a life science laboratory and a children's adventure garden. The Arboretum is a great place to hold your own corporate team building events, and also invite your employee's families, too!
Fun Team Building Activities in Dallas
Team building in Dallas should be fun! Fun team activities help employees to relax and come together as a group. That's why we've compiled this list of the most fun team building activities in Dallas TX.
11. Team Building Hero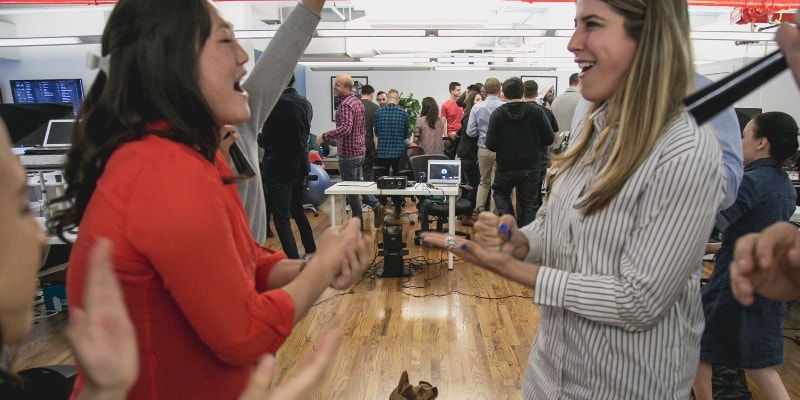 Team Building Hero offers a great menu of corporate event ideas in Dallas. You can choose from scavenger hunts, food competitions, storytelling workshops, museum tours, and company holiday party ideas. At Team Building Hero, you'll have a dedicated sales rep who wants to understand your team building needs in order to provide the best (and most effective!) team outing for your individual group. Plus, if you book multiple team building events then you can lock in preferred pricing.
12. Group Dynamix
Group Dynamix offers fun team activities and company outing ideas in Dallas TX. Group Dynamix's large corporate events center is packed with a variety of games, modified sports, adult-friendly inflatables, ropes courses, zip lines, and trained facilitators to guide your team through challenges. A few of the top fun group activities for adults include a Team Olympix, a challenge to prevent a nuclear power plant from melting down, and a Communication Lab, where participants will experiment, test, observe, and share findings.
13. The Texas Theater
For upcoming team building events you can plan a casual team outing to your local movie theater. The Texas Theater located along the historic Jefferson Blvd shopping district and three blocks from the Bishop Arts District in Oak Cliff is a great team outing option in Dallas. The Texas Theater is much more than an average movie theater. The venue hosts special corporate events like concerts. and runs movie screenings too. From Thursday to Sunday, you and your team can enjoy a film and socialize at the onsite bar bar. If you have a large team and would prefer a private event for your company outing, then you can rent The Texas Theater for a minimum of two hours.
14. Escape This
Escape This offers a few different escape room experiences for team building vents. Each of the escape rooms is geared to not just encourage team work but also to force your team to come together through communication, listening, and critical thinking. To solve the puzzle and ultimately escape the room, you'll need everyone on your team communicating and working together. Escape This can accommodate anywhere from eight to 80 guests on site. With large groups team building activities, your team will be split up into smaller groups and compete against each other in the different escape rooms.
15. Xcape Adventures
Xcape Adventures is an interactive adventure game, corporate event idea, and escape room. Like most escape rooms, you and your team will be locked in an intricately decorated room and have to solve riddles and puzzles, crack codes, find keys, uncover secret passages, and make your grand escape. You'll have only 60 minutes to succeed or fail for this event. Each room at Xcape Adventures is focused on activating the following components of team building: contribution and unique perspectives, shared goals and working together under pressure, communication, and creativity. Escape rooms are ideal for small teams but larger groups can also be accommodated for corporate team building.
16. Texas Wine and Wood
Texas Wine and Wood is a creative studio that hosts DIY team building activities throughout Texas. Texas Wine and Wood hosts public parties as well as private group and team events at restaurants, breweries, wineries or even in your own home or office. Some of Texas Wine and Wood's offerings include a workshop in DIY wood signs, a brunch and board program where guests craft and enjoy mimosas and brunch, and a wood projects workshop to build just about anything from corn hole boards to serving trays.
17. Idea Fountain
Idea Fountain Inc. strives to provide creative and engaging team building events in Dallas. Idea Fountain offers a variety of fun corporate events. For example, Bears, Blankets & Books, where after completing a series of tasks, your team will create their own personal, handmade snuggle package to be donated to children at Children's Hospital, Family Place, or your charity of choice. Another example of one of these team building events is Indoor Field Day, an active group event. Finally, one of the corporate event ideas is Mighty Green Thumb. Your team will have the opportunity to give back to the community by planting flowers, plants and succulents, which is good for everyone.
18. Bowl and Barrel
Bowling is one of the classic options for team building events. A few hours at your local bowling alley may be the right amount of competition and fun for your team. Bowling is familiar, nostalgic and we'll bet most everyone on your team already knows how to do play! For team events, Bowl and Barrel also offers craft beer, snacks, and food. If you want to make your team outing more than just a casual after work hang, then Bowl and Barrel also offers corporate team building event packages with different deals for small and large groups.
19. Medieval Times
For a different approach to team building events in Dallas, you can take your team to dinner and a show at Medieval Times. A night at Medieval Times includes a four-course meal fit for a Queen, with vegetarian meals available. The experience also includes a one-of-a-kind show with a two-hour medieval jousting tournament, six competing knights, real weapons, beautiful horses, and a live royal falcon flight. For smaller teams of fewer than 15 guests, you can join in the fun any day of the week. For larger groups of 15 or more, you have the option of booking a private show just for your party. Medieval Times Is a good option for team building for large groups.
Team Building Scavenger Hunts in Dallas
Scavenger hunts are an easy, fun, and effective way to host your next team outing. Below are two team building scavenger hunts in Dallas that we love.
20. DFW Scavenger Hunt
DFW offers three things for corporate team building activities: a race, a puzzle, and a tour through Dallas. During corporate events, your team will put their knowledge of Dallas to the test. You'll travel around the city on foot to find clues, answer trivia questions, and solve puzzles. DFW is a good option for teams that like the idea of an escape room but would rather be outside than indoors. Some of the company's current hunts include The Great Arts District Heist and Trains of Thought in Downtown Plano. DFW also offers custom hunts in Dallas for fun team building events.
21. Watson Adventures
Watson Adventures runs scavenger hunts as fun, corporate team building activities. During these scavenger huts, your team will explore one of the best museums or neighborhoods in Dallas, follow difficult clues, solve funny riddles and have lots of fun. You can check out Watson Adventure's top five Dallas corporate team building activities: The Dallas Museum of Art Mania Scavenger Hunt, The Mad Science Scavenger Hunt, The Grab 'n' Go Scavenger Hunt, The Lone Star Showdown Scavenger Hunt, and The Hidden Kimbell Scavenger Hunt. If heading out on the town isn't doable for your team, then Watson Adventures also offers trivia and a murder mystery activity that you can play at your office.
Dallas Team Building Activities With Food
Food is a magic word around many offices and if you mention your next corporate event includes food, then you'll have some pretty excited employees on your hands. Check out our favorite Dallas team building activities with food below.
22. The Great Guac Off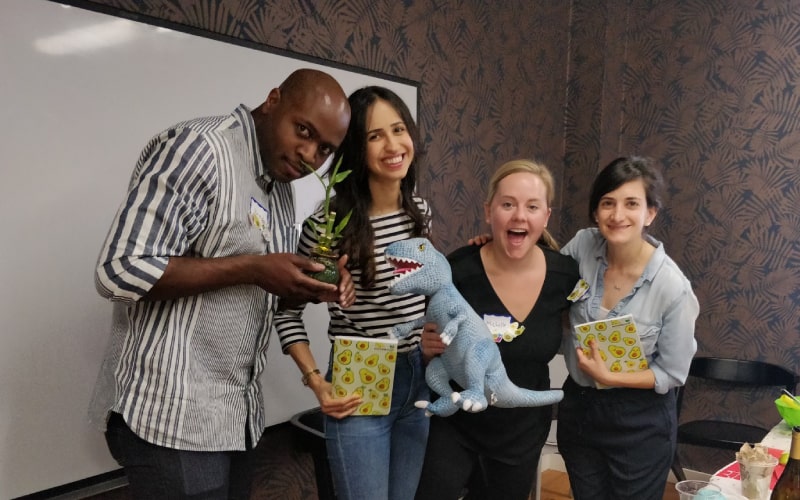 The Great Guac Off appears twice on our list because we also mentioned it as one of the best corporate team building activities in Dallas. The event really is a gem when it comes to bringing your team together, and every event includes the essentials to make it a success. For example, your booking includes a fun and active host, all of the guacamole ingredient and dippers, and prizes. The Great Guac Off is very location-flexible, which means you can host these team building events at your office, conference room or other space. You can also rent a location for your event, and if you like turn it into a cocktail party afterwards.
23. Team Building with Taste
Team Building With Taste in Dallas offers three team building activities as options for your next team outing. You can probably tell by the name that this company offers something to do with food. Team Building with Taste runs cooking team bonding activities. Of the three fun team activities for employees offered, our favorite includes a three-hour program that pits teams against one another as employees prepare a four-course meal. The company also throws curve-balls in along the way to inspire creativity, communication, and team building. The meals are then presented to judges. After the judges announce a winning team, everyone gets to enjoy their meals in a private dining room, which continues the good vibes and team building atmosphere.
24. BBQ Like A Champ
BBQ Like A Champ's Dallas team building activities are a great way to get your team bonding by learning about and practising a new skill. These BBQ team building events will be customized to your team's unique tastes and preferences. All of BBQ Like A Champ's fun group activities for adults include an introduction on how to determine what great BBQ tastes like, a mini-contest, a sampling of great BBQ, and an awards ceremony. At the end of your team's event, BBQ Like A Champ will hand out trophies and certificates certifying your teammates as Grand Reserve Texas Pitmasters!
25. Dallas by Chocolate Tours
Dallas by Chocolate Tours specialize in team building events that bring your group together through delicious food. Dallas by Chocolate offers both savory and sweet tours, with the ability to customize team events to your tastes. Here are a few examples of fun team activities for employees: Mornings and Mimosas, Dallas' Best BBQ and Brewery, Dallas' Best Tacos and Margaritas, Gimme Chocolate!, Winery, Chocolate, Pizza & Live Music, and a Bishop Arts Food tour. Most tours require a minimum of 18 people. Dallas by Chocolate Tours has worked with corporations and smaller businesses, including Capital One, British Petroleum, CBS Networks and Southwest Airlines.
26. Ice Cream Smash-Up
Instead of hiring one of the team building companies in Dallas, you can plan your own events instead. Consider hosting an Ice-Cream Smash-Up, which is essentially a "build your own ice cream" experience. Get a couple of large tubs of vanilla, and then also toppings like chocolate, marshmallows, candy and fruit. To make this experience less focused on eating and more on team building, include elements like icebreaker questions and a friendly competition to make the best ice-cream pile.
Final Thoughts on Team Building in Dallas
If you've read this list and still need help planning the best corporate team building activities and corporate events, then we'd be happy to help! Drop us a line to chat about team building activities in the Dallas, Fort Worth, Plano, Arlington, Weatherford, and Granbury area.
Team Building Dallas: Frequently Asked Questions
What is the best team building activity in Dallas?
The best team building activity in Dallas is The Great Guac Off. It offers team bonding, team building, and engagement through a fun guacamole making competition.
Is there a difference between team building and team bonding?
In short: yes. Team building is typically a business investment in future productivity and employee satisfaction, while team bonding is about having fun and boosting office morale. The goals are similar, but the methods can vary. If what you want is a team building activity, then choose a company that specializes in that.
Is indoor team building or outdoor team building better?
Indoor team building vs. outdoor team building is a popular question, but there's no clear answer: one isn't definitively better than the other. If you live in a climate that allows it like Dallas, take advantage of the nice weather and host your team building activities outdoors when the temperature permits it to shake things up.