You've found Team Building Austin! We're so glad you're here checking out this list of the best team building activities, corporate events, company retreats and company outing ideas in Austin TX!
Team building is important to not only cultivating but maintaining great teams. We like to say, "teams that play together stay together!" and it's not just us! Studies show investing in team building has a huge positive impact on the health of companies. Why? Because team building leads to more engaged and satisfied employees which leads to a higher calibre of work, employee happiness and retention.
Each team is different and team building activities are not a "one size fits all" investment The first step in choosing the right event for your team is to ask them! What do your employees like? What motivates them? Is your team's preferred activity the high intensity of an escape room, the friendly competition of a scavenger hunt, or learning something new like a cooking class or glass blowing?
Whatever your team needs from a corporate event, we guarantee you'll find the perfect fit on this list! Keep reading to discover the best team building activities, corporate event ideas, team outings, and company off-site ideas in and around Austin, Cedar Creek, Lockhart, Shady Hollow, and Round Rock.
Table of Contents
The Best Team Building Activities in Austin TX
While there are dozens of team building companies in Austin, it was important for us to narrow down the options to the top two or three corporate event ideas in the area. After evaluating several key factors from fun to innovation to price, we've settled on the two best team building activities in Austin. Read more about them below!
1. The Great Guac Off™ – ⭐⭐⭐⭐⭐ [Top Rated]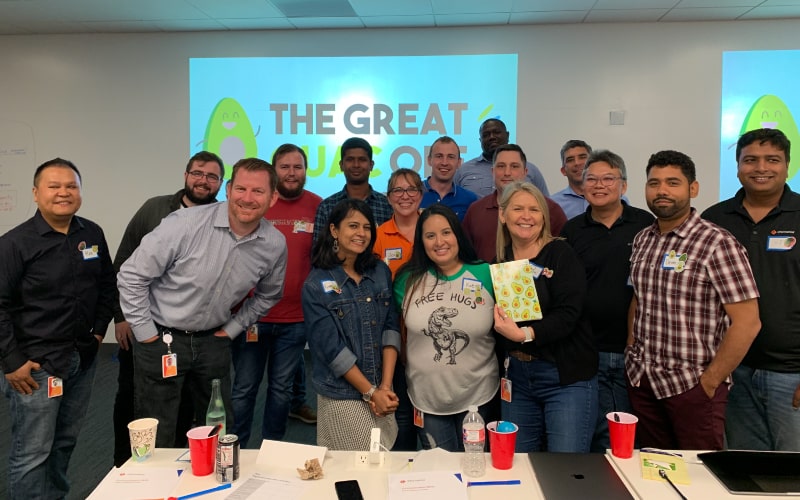 A part guacamole making competition and part team building event might sound a little unusual, but The Great Guac Off™ is one of the best company team building activities in Austin! The event is challenging, fun and collaborative. By splitting your team up into smaller groups, The Great Guac Off encourages friendly group competition and a full serving of team bonding. Your team will battle it out in mini challenges like trivia and happy cup, followed by a competition to make the best guacamole ever. The Great Guac Off can be hosted anywhere, including at rental locations the company can provide site or at your own office. There is no limit to the amount of fun or people you can have at this awesome corporate event.
2. Gingerbread Wars – 🎄🎄🎄🎄🎄 [Holiday Themed]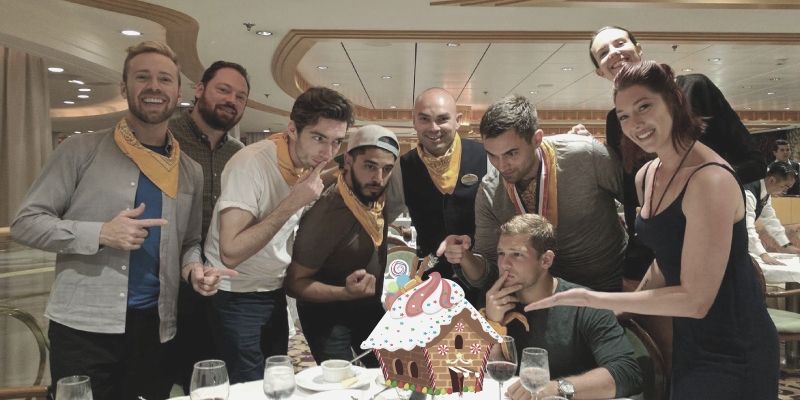 Gingerbread Wars is the ultimate in company team building activities and office holiday parties. Treat your team this holiday season to a fun-filled holiday battle as your employees come together to determine who has the best gingerbread house building skills in the office. Your team will enjoy fun trivia, challenges, a Snowman Hustle, and the Gingerbread of Greatness showdown. Catering, snacks, and BYOB cocktails are all options for your event. Host this team activity at your office or one of Gingerbread Wars' awesome downtown Austin locations.
Unusual Team Building Events in Austin
Does your company regularly do team building events? If so, then you may be tapped out of fresh, exciting ideas that will energize your employees. These unusual team building activities in Austin are great options for teams that have already done the traditional team outings like bowling, escape rooms, and scavenger hunts.
3. Team Building Hero
If you are ready for the ultimate in Austin team building activities then check out Team Building Hero. This company offers a variety of fun team events including scavenger hunts, storytelling workshops, food competitions and more. One of the nice things about team building companies like this one is that you can do multiple corporate events or team off-sites with the same provider.
4. ScavBoss
Scavenger hunts are a top choice for corporate team building activities for a few reasons: 1) scavenger hunts are collaborative; 2) scavenger hunts are competitive, and 3) scavenger hunts are a ton of fun. Your coworkers will have a great time competing against the clock (and each other) to solve the clues, move forward in the race, and ultimate take home the top prize. ScavBoss offers team building scavenger hunts in Austin, custom company scavenger hunts, and an Impossible Hunt, which is specifically designed to be impossible to solve.
5. K1 Speed
Have you ever wanted to drive a formula one race car? Okay, so maybe you won't quite get to do Nascar but you can get really close at K1 Speed, America's premier indoor go-karting experience. If you are looking for something to get your blood pumping and heart racing then this adrenaline packed corporate event is sure to be a unique option for your next team outing. Along with one of the largest tracks in the nation, K1 Speed also has a museum-worthy collection of racing memorabilia and art work. K1 Speed offers two-hour packages specifically for team building that includes more than just racing. You'll participate in a range of other team building activities like the ball challenge relay and the pit crew challenge. Groups of up to 30 people are welcome.
6. Host A Meetup
If you're looking to kick-start more than just your immediate team members, then hosting a fun and inclusive meetup should be on your list of corporate event ideas. Planning a meetup isn't as hard or daunting as it may seem. First, choose a location. The venue could be anywhere: your office, a local park, a cafe, a bar. Second, plan a few games and team activities to get your guests engaged. Here are a few examples of group activities you could do: a small scavenger hunt, a photo challenge, or a personalized bingo board that attendees should complete during the event. Finally, invite your team, customers, vendors, suppliers and local community (pretty much anyone you want to connect with). The best part about these unique corporate events is that it is a great way to not only show off your brand but show your community how much you appreciate them. If you need help planning your meetup, then don't hesitate to reach out to us!
7. St. Edwards Park
In addition to promoting a healthy life and work balance, use your next team outing as an opportunity to promote general health and wellness in your employees' lives. Getting outdoors, getting active and exploring your local hiking trails is a great way to get healthy and raise spirits for your next team outing. Visit Austin's St. Edwards Park for the perfect outdoor team building adventure. You'll find lots of trails, awesome views, a waterfall and a creek. The best part about outdoor corporate events at the park is that it is easy enough to organize yourself and very cost effective. You can even include your team's furry friends! Dogs are allowed on a leash in the park.
8. Super Holiday Party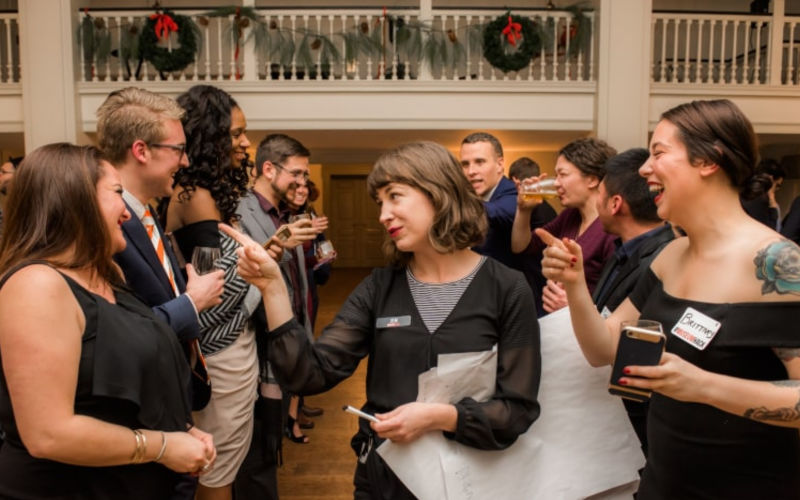 It's time to think about your office holiday party (yes, even if you're reading this in July)! Super Holiday Party will take your company holiday party to the next level; think holiday themed trivia and mini challenges. You can also choose to have the company decorate your space, include catering, stockings for your guests, a professional photographer, and BYOB. It'll be the holiday party to remember for seasons to come. While Super Holiday Party only operates from October through December, elves will answer the phone year round to get your party booked. Space is limited, so give Super Holiday Party a ring ASAP if you're interested in learning more.
9. Austin Bike Tours and Rentals
If you have an active team that really enjoys being outside then you should check out Austin Bike Tours and Rentals. While Austin Bike Tours and Rentals has five different team activities to choose from, we love their flagship tour: Austin Icons. This team outing has a little bit of everything. Bike along the shaded Butler Trail, get a wonderful view of Lady Bird Lake from the Pedestrian Bridge, cruise through the most historic neighborhoods in Austin and more. All corporate events are guided and full of historical facts and stories.
10. Stunt Ranch
Stunt Ranch offers a unique option for corporate team building activities in Austin. Have you ever wanted to jump out of a burning building, take trapeze lessons or train to be an action hero? Stunt Ranch offers the chance to do all of these unique activities and more! Stunt Ranch is a 22-acre corporate events center and the only stunt ranch in North America. You can choose from a variety of fun activities for adults to create the perfect combination. Your day will be full of action packed team building activities and challenges that will get your team working together and having tons of fun. You'll also get awesome pictures completing cool and challenging tasks like running away from an exploding van just in the nick of time.
Fun Team Activities in Austin
Here at Team Building Austin, we believe corporate event ideas should be fun. That's why we included a list of the most fun team building activities in Austin we could find. If you're looking for a good time for your next team outing, then we suggest you consider some of the options below.
11. Ghost Pepper Glass
Does your team need to tap into their creative side? If so, then Ghost Pepper Glass is the perfect spot for your next team outing. The team building company has a few different packages of company outing ideas, like 1) Individual Hands-On Activity: In this package each team member gets the opportunity to make a small glass object (with the help of an instructor); 2) Group Hands-On Activity: In this event your whole group will work together to create one large piece, which is perfect to take back to your office as a reminder of the fun you had during your event; and 3) Glassblowing Demonstration with Narration and Live Q & A: If you are more interested in learning instead of doing, then Ghost Pepper Glass also offers a demonstration explaining the process, history, and the science behind the glass making industry. You need a team of eight or more to book private corporate events.
12. Wise Guys Events
Wise Guys are known for their live, interactive and fun group activities for adults. Have you ever seen the show Survivor? Wise Guys' games are very similar to that style — in fact, Wise Guys even created some of the games for the popular show! Wise Guys has also worked with companies including Google, Apple, Disney, Nike, Toyota, and many more. Wise Guys has a long list of ready to go team events to choose from for your next team outing, including Booze Clues, Play Stations, Camera Assassins, Decathlon, and Company Feud. Head over to the company's website to see all of the fun corporate event ideas. If you don't find one that works for you, then that's okay, too. Wise Guys will work with you to customize a unique team event based on your business' needs. More info here.
13. Archery Training Center
Austin's Archery Training Center is a great place to spend a few action packed hours with your team. What does a day at the Archery Training Center look like? After signing a safety waiver and getting expert instruction, your team will test their skills and compete in an intense ranking round. Next, you'll move on to the Olympic round where you'll be split into small teams of two and battle it out for the gold, bronze and silver medals. The Archery Training Center offers three hour team building events with a small awards ceremony at the end of the day. This space is perfect for teams between 10 and 20 people. More info here.
14. The Dirty Easel
The Dirty Easel is not your average paint night. The Dirty Easel is all about tasks and instructions that get your team members out of their analytical heads and into a free thinking creative space. The Dirty Easel's staff focuses on exploration and different perspectives to spark innovative ideas. Instead of copying a famous work of art, a Dirty Easel team building event is all about play and experimentation rather than focusing on the end-goal. The event teaches your team to enjoy the messiness of the creative process. One of the biggest takeaways your employees will get from these team building activities is to let go of the fear of failure and other mental blocks like perfectionism. Get outside your comfort zone at your next team outing with a corporate event by Dirty Easel. More info here.
15. Ceramics Bayou
Ceramics Bayou is a paint your own pottery and ceramics community studio. This venue may not be the first place you think of when you think of team building activities in Austin; in fact, you probably haven't been to a place like this since you were a kid. That reason is exactly why Ceramics Bayou is a good place for your next team building event. It's generally a good idea to get back in touch with your inner kid, play in a creative way, and not be worried about doing everything perfectly. This space is perfect for small to medium teams as the limit is capped at 24 adults. With over 400 pottery and ceramic objects to choose from, we're sure everyone on your team will have fun creating something special. More info here.
16. The AR Adventure
The AR Adventure is a combination of team building activities. AR Adventure is an escape room, team building scavenger hunt, and city tour all wrapped up into one corporate event. Here are the top four Augmented Reality games for teams: Murder Mystery Mini-Game, Treasure Chest Octopus Mini Game, Fantasy Scavenger Hunt, and Spy Thriller Scavenger Hunt. More info here.
17. Austin Panic Room
Austin Panic Room offers four escape room challenges for corporate team building activities in Austin. These corporate events require your team to work together and communicate in order to solve difficult puzzles and riddles. You only have 60 minutes to complete all the tasks and escape the room or else! Austin Panic Room events are high-intensity and their escape rooms only have a success rate of 30 percent. This team event may be a good fit for teams who love a challenge. The rooms change every six to eight months so there is always something new to check out. Austin Panic Room's current rooms include the Oval Office, Cabin Fever, Phase III: Human Trials, Prison Break, and Abandon School. More info here.
18. The Escape Game
For more fun team bonding, check out The Escape Game. The Escape Game offers five different and totally unique company team building activities in Austin TX! Which challenge will you and your team take on? Options include The Heist (recover priceless works of art that have been stolen from a world class museum), Prison Break (go back in time to 1955 and your team has been wrongfully accused of a crime and sentenced to life in prison), Gold Rush (find the hidden gold before the mob does), Playground (pass your last group assignment in time for summer break), and Classified (crack the case and save the world from an international attack). Escape rooms are better for smaller teams as each one can accommodate up to eight players per room. More info here.
19. Lockout Austin
Lockout Austin offers a live escape room experience with five unique rooms and team building activities to choose from. Rooms include Area 51-2, CSI: Murder at the Asylum, The Cursed Ship, and Blue Meth Breakout. Lockout Austin's five rooms can accommodate a total of up to 40 people at each time. You can also take the team bonding that extra step further with Lockout Austin's package add-ons like a one-hour post-game debrief with a trained leadership consultant. More info here.
20. Maze Rooms Austin
Maze Rooms understands the key elements of an escape room and most importantly which of those elements make it a tool for team building. Maze Rooms build rooms that both test and enhance your team in the following areas: problem solving, stress management, communication and people skills, cooperation and leadership skills, time management, and decision making. During these corporate events, your team will have to share ideas and information, express themselves clearly, listen to each other and work quickly and calmly in order to complete all of the tasks and ultimately escape. More info here.
21. TopGolf Austin
TopGolf in Austin has fun team activities for employees. Your team will enjoy this event regardless of their skill or actual interest in golf because TopGolf is all about entertainment. From games and top of the line indoor golf simulators to music, food and drinks, TopGolf has a team event many people will enjoy. The space can work for a causal after-work happy hour or a full package team building event. TopGolf offers all-inclusive corporate event ideas including game play, food, drinks and a dedicated staff to make sure everything runs smoothly. Packages start at $44 per guest. More info here.
22. The Go Game
The Go Game has been around for over 10 years and has spent that time getting better at what it takes to engage employees with team building activities. The Go Game offers some Austin team building activities, including The Go Game Classic, an indoor game show corporate event complete with a fun host, and a spy game where a member of your team has been kidnapped. More info here.
Austin Team Building Activities With Food
Who doesn't like to eat? Food can elevate any company outing and get your employees excited about the team off-site you have planned. Below, check out some of the best Austin team building activities with food.
23. The Great Guac Off™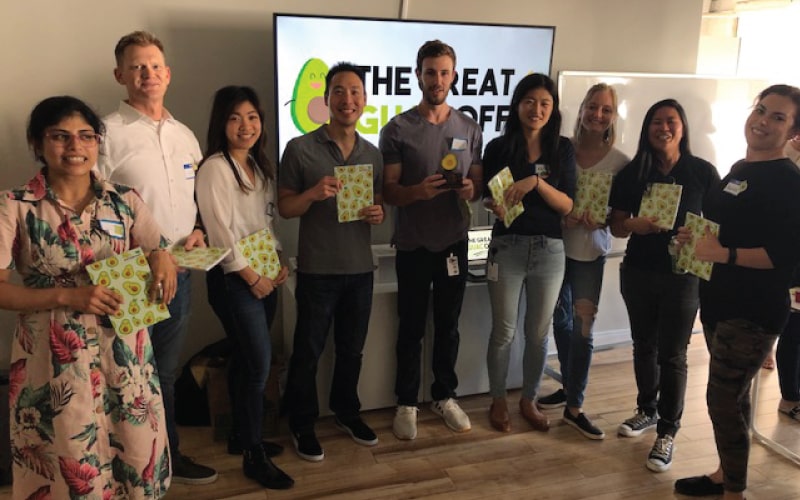 You might be thinking that a part guacamole making competition and part team building event might sound a little unusual, but The Great Guac Off is definitely one of the best company team building activities in Austin! As an event, Guac Off is challenging, fun and collaborative. By splitting your team members up into smaller groups, the company encourages friendly group competition and lots of team bonding. Smaller teams will battle it out in mini challenges like avocado themed trivia, while also competing to make the best guacamole at your company. The Great Guac Off can be hosted anywhere, including rental venues around Austin or at your office or conference space. There is no limit to the amount of fun or people you can have at these awesome events, so it works really well when team building for large groups. More info here.
24. East Austin Culinary Studio
East Austin Culinary Studio is a space for novice chefs, amateur foodies, and pretty much anyone who loves food. East Austin Culinary Studio offers a variety of cooking classes and has the option to rent out the whole space for food-centered private corporate events. Fun team activities include a summer meal class, a handmade gnocchi and four-course dinner and drink pairing adventure, a summer cookie decorating class, and a pickling and canning lesson. More info here.
25. Austin Food Truck Crawl Tour
Did you know Austin has over 2,000 food trucks?! Austin Food Truck Crawl has made it a mission to share the best food truck experience Austin has to offer so you don't have to go through all 2,000 yourself! The corporate events typically include four delicious stops each featuring a different type of cuisine. The tour stops are different depending on the neighborhood and are also customizable to your team's tastes. Austin Food Truck Crawl offers more than just the standard food tour with a few activities specifically for team building. Company outing ideas in Austin include the Ultimate Austin Scavenger Hunt, the Austin BBQ & Brew Challenge, the Austin Food & Drink Challenge, the Street Art Challenge, and the Austin Food Truck Challenge. More info here.
26. Muffin Bake-Off
In recent years, muffins are losing the battle to so-called healthier options like oatmeal and salads. The reality is that muffins are actually pretty awesome. As a DIY option, host a team event where each of your staff is responsible for making a batch of muffins. Everyone can choose the ingredients of their choice, like chocolate chips, marshmallow fluff and Cheetos (for weirdos). The nice thing about doing this team building event is that you will definitely have some muffins left at the end, which your employees can take home to share with their families.
27. Watermelon Eating Competition
Watermelon may be the most delicious fruit in the world. For doing team building outdoors, you can buy a bunch of watermelons, chill them, and then take those melons to the park for a fun eating competition. Watermelon is fairly easy to eat quickly, generally safe, and healthy. You team will load up on those healthy vitamins while building strong bonds and making strategies on how to win the event.
Final Thoughts on Team Building in Austin
When done right, team building will result in stronger teams and an overall increase in employee satisfaction and retention. These benefits make team building a great investment you can make in your company and staff.
If you have any questions about company team building activities in Austin TX, Cedar Creek, Lockhart, Shady Hollow, Round Rock, or other cities in the surrounding area, then don't hesitate to drop us a line. We'd love to help you plan your next team building event!
Team Building Austin: Frequently Asked Questions
What is the best team building activity in Austin?
The best team building activity in Austin is The Great Guac Off, which includes friendly competition, good food, and team bonding.
Why should I choose a team building facilitator instead of DIY team building activities?
We love DIY team building activities at Team Building Austin, but think it's important that companies use professionals for their team building activities at least once throughout the year. Professionals are trained to ensure your corporate events achieve your team building goals.
How often should we team building during the year?
Our recommendation is to host a company event once per quarter. This frequency is where DIY team building can come in; if you have four events during the year, we'd suggest professional team building companies host three of them.