Hi and welcome to Team Building Fort Worth! ❤️
We're guessing you're here because you're looking into the best corporate team building activities, corporate event ideas, and team outings in Fort Worth, TX — if so, that's great news! You're already light years ahead of your competition (or on the right path to catching up, if those competitors have already made the investment in team building activities themselves).
At Team Building Fort Worth, we truly believe that an investment in regular team building events is what sets the best companies apart from good companies. If you're looking to boost the health of your business and increase employee loyalty, retention, and engagement, then you're on the right track.
Here's the catch: corporate team building isn't a one-size-fits-all kind of deal, and no two team building companies in Fort Worth are the same (nor are all corporate events facilitators created equal). That's what sparked us to create Team Building Fort Worth, the most comprehensive guide to the best company outing ideas in the Fort Worth, TX area. No matter what you're looking to achieve with your next team off-site (a fun day away from the desk or a team event with a little more skill building), we're confident you'll find a team building activity that's right for your business on our list.
Ready to discover the best team building activities in Fort Worth, Arlington, Irving, Grapevine, Weatherford, Granbury, Azle, Benbrook, Burleson, and Mansfeld? Let's get to it!
Table of Contents
The Best Team Building Activities in Fort Worth
Fort Worth is home to a number of cool companies offering team building events, but we didn't want to just round up a list of every business under the sun. Instead, we wanted to figure out who the best of the best companies are when it comes to providing top team building activities in Fort Worth. After carefully weighing the most important elements of successful team building events (price, innovation, fun, effectiveness, reviews from actual clients, etc.), we zoned in on the best team building activities in Fort Worth, TX. Both are excellent places to start when looking to book your next team outing.
1. ScavBoss
Team building scavenger hunts are a popular choice for company outing ideas, but we wanted more than just your traditional corporate scavenger hunt to claim the top spot on our list. Luckily, ScavBoss delivers on exactly that, offering a completely customizable team building scavenger hunt in Fort Worth. Is there a part of the city you'd like your team members to explore? Or perhaps you have a custom theme in mind you'd like your coworkers to focus on? ScavBoss can put together a scavenger hunt of any location about just about any topic, whether that's industry trends, company values, or just something fun. If you're looking for a unique twist on the traditional scavenger hunt, then consider the ScavBoss Impossible Hunt, a team building scavenger hunt designed to be unsolvable. This tricky team outing will challenge your coworkers, give you new insights into behavior under pressure, and encourage better communication, collaboration, and problem solving.
2. The Great Guac Off™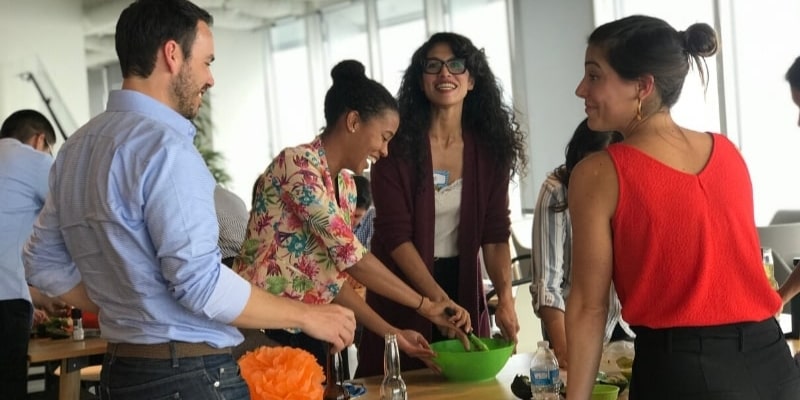 The Great Guac Off is the ultimate fun team building event in Fort Worth. Half guacamole making competition, half team bonding activity, The Great Guac Off combines food and friendly competition into one awesome company off-site. Here's how your company event with The Great Guac Off works: 1) your team will be broken down into smaller groups, 2) each group is tasked with creating the best guac recipe (include a secret ingredient mystery box for an added challenge), 3) mini-challenges and fun team activities occur throughout, and 4) guac is judged, a winner is crowned, and a great time is had by all! Add BYOB or a burrito bar to round out your team event with TGGO. Your team outing can be held at your office, at TGGO's Fort Worth location, or anywhere near Fort Worth TX. All group sizes are welcome, making TGGO an awesome choice for team building for large groups.
Fun Team Building Events in Fort Worth
In our view at Team Building Fort Worth, team building events have to be fun for there to be any chance of these activities actually being effective. While our two top companies, ScavBoss and The Great Guac Off, both scored top marks on the fun factor, we also found some others offering fun team building events in Fort Worth worth mentioning on our list.
3. Gingerbread Wars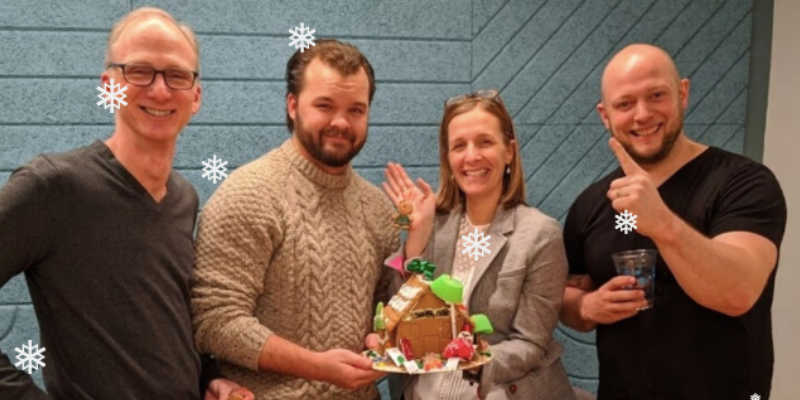 It's time to get festive! Gingerbread Wars will change the way your office hosts its annual company holiday party. Add a sprinkle of team building to go along with those Christmas cookies; your team will enjoy this epic holiday-themed showdown as groups compete to build the best gingerbread house in the office. With fun games and activities mixed in, Gingerbread Wars offers a fun take on the annual corporate party. You can host your Gingerbread Wars at your office, at the off-site venue of your choice, or let the Gingerbread Wars' elves find an awesome Fort Worth spot for you. Include drinks and catering to take your team event to the next level. Be warned: Reserve your spot as soon as possible, as the company only offers dates from October through December, and availability tends to sell out fast.
4. Team Building Hero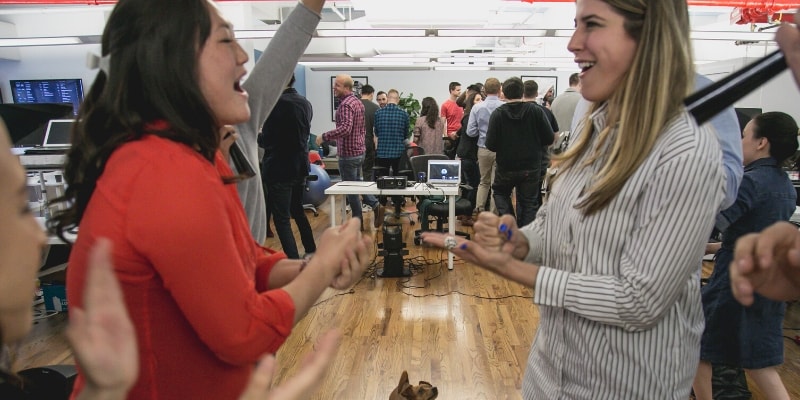 Team Building Hero is a game changer when it comes to the way team building events in Fort Worth are booked. Team Building Hero has a long menu of different company outing ideas, from scavenger hunts to team building activities with food to museum tours to storytelling workshops to outdoor team events. With Team Building Hero, you can book several different corporate events because each activity is so unique; plus, you'll get a discount on every team building activity with Team Building Hero if you book an entire year's worth of corporate outings at once.
5. Bowling
Alright, so we know we're not reinventing the wheel with the idea of bowling as a company outing, but hear us out. Bowling is fun, relaxing, and something just about everyone on your team probably already knows how to do. Bowling is a good option when you're looking for a company event that's simple to plan, doesn't require much by way of skill, and includes on-site food and drinks. Hit the alley and knock pins down for an hour or so, then transition into snacks and beverages before turning your coworkers loose for the day (bonus points if you let everyone head home earlier than normal).
6. Fort Worth Axe Factory
Axe throwing is quickly becoming a popular choice for team building events in Fort Worth, TX. The Fort Worth Axe Factory offers fun corporate events for your employees. Your team will learn how to toss an axe like a pro, then compete to see who picks up this new skill with ease. For groups of 30 or less, pricing starts at $400 for two hours, four targets, and a coaching session. You'll also have your own private room for dining and can enjoy challenges and games designed to maximize team bonding time. For groups of 31-70 guests, your package includes everything listed above, plus all 14 lanes for axe throwing; that corporate event package is priced starting at $600.
7. Red Door Escape Room Fort Worth
Much like axe throwing, escape rooms are also a common choice for team activities. Red Door Escape Room offers three different corporate events packages. The basic package, starting at $23 per guest, includes 90 minutes and one private escape room. The most popular package, which starts at $28 per guest, offers three hours of team bonding time, one private escape room experience, a private room for dining or debriefing, and a dedicates staff member. You can also choose to fully upgrade your company outing to include four hours, a private escape room, a private room, a dedicated staff member, team building games and challenges, and a post-escape room team building analysis and debrief.
8. SmashTown
Let's keep with our current theme of running down the list of commonly chosen team building events in Fort Worth and highlight SmashTown. SmashTown could be a good choice for a team outing if your group has had a stressful quarter or otherwise is in need of blowing off some steam. SmashTown provides items for destruction and all the tools needed to engage in said destruction. Your group will be able to bash a car, smash glass, and just generally let out some pent-up stress and anger.
9. Corky's Gaming Bistro
Corky's Gaming Bistro offers fun team building activities in Grapevine TX. Corky's is a cool choice for your next company outing because it combines several fun team events into one; Corky's offers axe throwing, escape rooms, arcade games, food, and drinks in one location. If you're on the fence about choosing an escape room vs. axe throwing or bowling vs. an escape room, we'd recommend heading to Corky's so your team members can choose which fun games they'd like to play. Afterward, come together over food and drinks to spend a little more time team bonding.
10. Monopoly
Make a quick list of some of your favorite classic board games, like Monopoly, Sorry!, Mouse Trap, chess, checkers, etc. Ask your team members to bring some of these games into the office from home and spend an afternoon coming together in the conference room and enjoying game time. Include snacks or have your team bonding time catered with something simple like a burrito bar or sandwiches. The key here is letting your team members relax away from their desks while participating in a fun group activity.
Unusual Team Activities in Fort Worth
Looking for your next team outing to go beyond traditional choices like escape rooms, scavenger hunts, axe throwing, or rage rooms? We've got you covered. Below are the most unusual team activities in Fort Worth that still pack an awesome team building punch.
11. Fixation VR
Fixation VR in Hurst offers corporate events packages for a virtual reality experience. Fixation VR touts the benefits of choosing VR for your next team building activity as boosting teamwork, communication, focus, and innovation. Your team outing can be customized to achieve your company's specific goals for hosting an off-site, whether that be fun, deeper connections, or tackling more tangible issues like problem solving, communication, or collaboration.
12. Murder Mystery Players, Inc.
It's time to dust off the old magnifying glass as you and your team members work to solve a classic whodunit. With Murder Mystery Players, Inc., your team will enjoy an entertaining team event with a murderous twist. Your group will be tasked with solving the crime and stopping the killer before murder strikes again. This is an interactive team building activity that requires guest participation. Bonus: If you'd like, the company can custom create a murder mystery specifically for your business needs.
13. Visit the Fort Worth Zoo
You might already be reminiscing about your sixth grade field trip to the local zoo. We love this idea for an unusual team building event in Fort Worth TX! The Fort Worth Zoo is one of our nation's best, so why not take advantage of this cool local spot and spend a few hours enjoying the animals? Time your trip with events already planned at the zoo, choose a custom corporate events team building package, or head out on a random weekday with a fun, interactive DIY scavenger hunt for your team to work through. First one to the lion wins!
14. Host A Meetup
Planning a meetup is a cool way to make connections and boost your business profile in the Fort Worth TX area. A meetup is an unexpected way to say thank you to your team, your team's families, and everyone else who makes your company run: vendors, suppliers, the local community, etc. Throwing a company event on this scale isn't as overwhelming as it might sound off the bat. All you have to do is settle on your guest list, find a location that can accommodate your group size, and plan a few fun team bonding activities, like a small scavenger hunt, photo challenge, or Human Bingo. Consider including catering or BBQ at a local park to round out the afternoon away from your office.
15. TopGolf Fort Worth
TopGolf is an easy way to put together an afternoon team outing in Fort Worth. Interest in golf isn't mandatory; hitting some golf balls and relaxing with food and drinks should appeal to just about everyone on your team, regardless of whether the Masters is must-view TV off the clock. TopGolf offers a great menu, fun activities for employees, games, and more. Choose from a full corporate events package or simply reserve a few bays for an afternoon out of the cubicle that's simple to plan.
16. Fort Worth Water Gardens
The Fort Worth Water Gardens are an awesome place to visit, especially when the hot Texas weather rolls in. The four-plus acre park is considered one of the coolest spots (literally!) in the city. The Water Gardens include three different pools, a knoll, and beautiful landscaping. The Fort Worth Water Gardens provide a fun and unexpected backdrop for your next team outing in Texas. Head out a day or two early and create a DIY scavenger hunt of the area, or simply take your team here to play a round or two of Human Bingo, enjoy the sunshine, then head home early for the day.
17. DFW Adventure Park
DFW Adventure Park is a team outing for those among us who love thrills and the signature rush of adrenaline. Team activities offered at DFW Adventure Park include paintball, obstacle courses, zip lines, ATVs, and more. One of DFW Adventure Park's top corporate activities is Survival School, which focuses on your team members' ability to survive nature's elements. DFW Adventure Park is a fun and unexpected choice, but we only recommend it if your coworkers enjoy being challenged in the great outdoors.
Fort Worth Team Building Activities With Food
Food is always a worthwhile inclusion to any company event, so choosing Fort Worth team building activities with food already included can make planning your next team outing even easier. Below are some of our favorite corporate team building activities that are tasty, too.
18. The Great Guac Off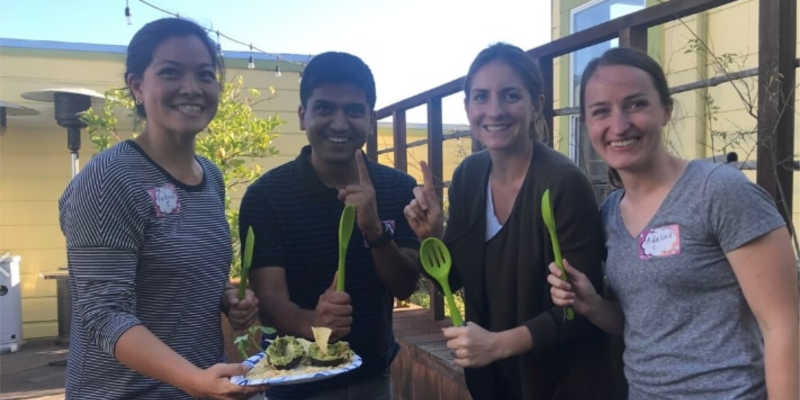 The beauty of The Great Guac Off lies in its simplicity. The Great Guac Off is a guacamole making competition that doubles as a team building activity, and it's one of our favorite team outings in Fort Worth, TX. Every Guac Off includes fun games, challenges, and team building activities. Your coworkers will be divided into smaller teams who then battle it out to create the best guac in the office. We recommend including the secret mystery box upgrade for an extra challenge and more fun during the team activity. Host your Great Guac at your office, at the company's Fort Worth location, or at the venue of your choice around the city. Any group size is welcome.
19. Eat This Fort Worth Food Tour
Come with your appetites for the Eat This Fort Worth Food Tour. Choose from preplanned food tours like the Taco Tour, which will bring your group to four different taco hot spots in the city (margaritas included!) or the BBQ tour, or even the Brews and Bites Tour. You can also book a private team building event that's customizable to meet the dietary needs and preferences of your employees. Eat This Fort Worth Food Tour offers team building activities in Fort Worth for groups to 30 people.
20. Food Eating Competition
Watermelon, hot dogs, mini-muffins, candy, hot sauce — the world is your oyster when it comes to planning this fun, easy-to-put together DIY team building activity. Choose a food (or a few different types of food; be sure to consider any dietary restrictions or preferences) and the rest is simple: your coworkers are challenged to see who can eat the most watermelon, the most hot dogs, or the hottest hot sauce. Take a picture of the winner, or winning team, and hang it up somewhere fun in the office. Host a rematch every quarter to turn this one-time team building event into a fun semi-annual in-office competition.
21. Brownie Bake-Off
Let's bring back dessert with this tasty DIY team building activity! Challenge your team members to a brownie bake-off (you can choose any dessert, or even any food, that you like). Each person on your team is responsible for whipping up their signature batch of brownies. For an added and unexpected twist, require each recipe to include a pre-selected (and unexpected!) ingredient, like cherries, bananas, or pickles!
Team Building Fort Worth: Frequently Asked Questions
What is the best team building activity in Fort Worth TX?
The best team building activity in Fort Worth is ScavBoss, which offers fun, custom team building scavenger hunts.
Should I pick a company to host my team building event or is it better to DIY team building?
We think both have a great place in corporate team building! If you're working with a limited budget, then we recommend sprinkling in several low-cost DIY team activities throughout the year and trying to invest in team building with a professional facilitator at least two times per year, but definitely at least once. If your budget allows you to team build optimally once per quarter, then it could still be fun to include a few in-office team building activities during the year.
How much does team building cost?
Team building costs vary greatly! You can DIY team building activities for a very low cost corporate event or you could book a team building package that can run thousands. It's important to understand what's included in your team building activity pricing package so you can ensure you're booking a company event that meets your needs and your budget.